The LE10 two post lift features the versatility to lift vehicles both symmetrically and asymmetrically within the same service bay. This exclusive technology used in our 2 post car lifts facilitates increased efficiency and revenue potential.
NEW Jacketed pulley-less single-point mechanical lock release system that was once exclusive to our CL Series lifts are now standard on the LE10.
Optional 2' column height auto lift extensions accommodate higher profile vehicles. Must order both our LE10 2 post car lift and Part # LE10EH2 for new car lift purchase or LE10EH2 for addition of 2' height extension to an existing LE10 car lift. Includes (2) height extensions, hose extension kit and new cables.
With double telescoping screw pads, durable powder coat finish, plated arm restraints and pins and many other appealing features, the LE10 two post lift will accommodate the rigorous demands of a full service facility – and afford room to grow with its competitive price. Available in red and blue only.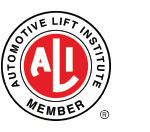 ALI/ETL certified.
Contact a Challenger representative at Automotive Specialty Equipment today for pricing.