Extra long 50″ aluminum approach ramps assure even the lowest sports cars won't bottom out when pulling up onto the runways of your Challenger 4 post lift. And because they're made of aluminum, they are light weight, and easy the remove, and re-install on the lift. Most manufacturers don't offer an extra long approach ramp like these. That means people have to resort to cumbersome and unsafe practices, like placing boards in front of the standard approach ramps. You're better off doing things right the first time.
Challenger's CL4P7 7,000 lb. capacity and CL4P9 9,000 lb. capacity 4-post lift was designed with versatility in mind. From home enthusiast and commercial storage applications to light duty general service applications, these lifts compliment your service needs and are loaded with real benefits. They are essential for the "do it yourself" home garage, providing the best of both worlds – store a vehicle up top and below with up to 80" of clearance when the lift is fully raised, or use this lift to service your vehicles
Looking for the right accessories for your home garage lift?
The CL4P9ER aluminum extended ramp add 50″ length for those ever popular low profile vehicles. SOLD IN PAIRS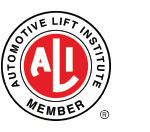 ALI/ETL certified.
Contact a Challenger Lifts representative at Automotive Specialty Equipment today for Home Storage Lifts pricing.