Caster Set With Hardware (Set Of 4) To Make Cl4P9 Lifts Portable; Caster Set With Hardware (Set Of 4) To Make Cl4P9 Lifts Portable
Manufacturer Information
Challenger Lifts has been in the marketplace for over 28 years. They are still specializing in the design, manufacture and distribution of a comprehensive line of superior automotive lifts, jacks and auto lift accessories in their 140,000 square foot Louisville, Kentucky manufacturing facility.
Challengers innovative product design sets them apart from the rest of the automotive lift industry. And it's what continues to drive important advances like their exclusive Versymmetric(R) Technology, the industry's first front and rear 3-stage arm two post lift, the most environmentally friendly automotive lift on the market – the AV1020 series in-ground auto lifts powered by AquaVantage (air and water), the in-ground vehicle lift with the widest drive through in the industry, the 4 post lift with the highest rise in the industry and other innovative vehicle lift products.
As the technology leader, it's no surprise that Challenger Lifts continues to experience rapid growth, and have gained acceptance in the service repair programs of every major automotive manufacturer. It's no secret that Challenger provide a quality, innovative auto lift product, but it's the people and processes of Challenger that earn its share in the automotive lift marketplace.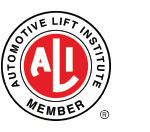 ALI/ETL certified.
Contact a Challenger Lifts representative at Automotive Specialty Equipment today for Home Storage Lifts pricing.