Service more vehicles and make more money with the Versymmetric® and Versymmetric® Plus CL10series 2 post lifts. Its exclusive Versymmetric® Technology provides the versatility to safely lift cars, trucks, vans and SUV's symmetrically or asymmetrically within the same service bay, within rated capacity.
CL10series Max Plus Productivity Configuration: Dual Pendant Power Controls, Stack Adapter Kit and Document Caddy with Versymmetric® Plus offset 3-stage front + 3-stage rear arms.
Other standard features include double telescoping screw pads, Heavy-Duty pulley and cable equalization system, 48″ elongated carriage, rubber door guards, adjustable arm restraint shafts, single point mechanical lock release and padded overhead shut off system.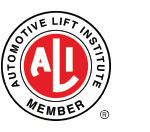 ALI/ETL certified.
Contact a Challenger representative at Automotive Specialty Equipment today for pricing.