Home storage lifts are allow vehicle owners to gain more space and convenience with just one installation.
Whether you're looking for more storage or you'd like to find a safe way to service your car at home, home storage lifts are the answer.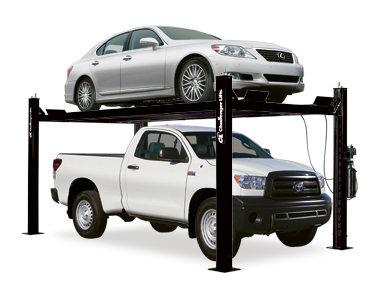 If you own a commercial shop, you probably have multiple lifts in your garage — you see how they help you do your job every day. What if you could install one in your own home?
Here are four benefits you'd enjoy:
1. Expand Your Storage Space
Your storage space instantly doubles. When you raise your vehicle off the ground, you're taking advantage of all that empty space near the ceiling and gaining plenty of floor space for other purposes.
This is ideal if you have a car you don't drive very often. Instead of spending money to build a new space or expand your current garage, home storage lifts easily solve the problem by leveraging vertical square footage to your benefit.
2. Maintain Your Vehicle at Home
You can't easily service your own vehicle without lift equipment. Home storage lifts give you the ability to carry out regular vehicle maintenance without bringing your car into the shop. This pays for itself over time! Get underneath the vehicle easily so you can quickly do your own oil changes, tire changes and any other mechanical updates your vehicle needs to run smoothly and efficiently.
3. They're a Safer Alternative to Jacks
Tire jacks are not ideal to use when performing routine maintenance. They are intended for use in an emergency; they aren't built for regular wear and tear. You're putting yourself at serious risk if you use jacks. A lift will make the entire process easier.
4. Store Your Second Vehicle in the Winter
When you're not driving your prized cars, make sure they're stored safely. Lifts allow you to place both cars in your one-car garage. You don't have to build a whole new space for your collections or worry about rust and corrosion in the winter.
Which Is Right for You?
Automotive Specialty Equipment offers a range of lifts, so it all comes down to what you're looking for. A two-post machine will raise a car higher than a four-post lift, but the four-post type will make the vehicle easier to load.
Learn about the benefits of home storage lifts and explore your options when you shop at Automotive Specialty Equipment, your one-stop shop for professional-level equipment at budget-conscious prices.